Most of us never think about the purpose of nest box material for our backyard chickens, but the topic deserves some consideration because most of us are getting it wrong. The purpose of nesting material is to protect eggs from breakage when hens lays them.  Because
a hen squats when laying eggs,(check out my video of it here!)
 nest bottoms should be cushioned to prevent shells from breaking as eggs drop from a hen's vent.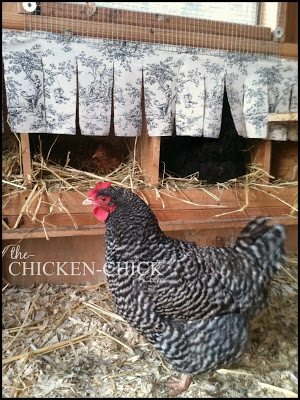 When I began keeping chickens, I mistakenly believed I was supposed to use straw in the nest boxes without understanding the purpose of nesting material. I quickly found that my hens scratched and kicked-out most of the straw from the nest boxes, leaving a hollow in the center of the box exposing bare wood, resulting in no protection from breakage for the eggs. Long strands of golden straw make a lovely, rustic-looking nest for photographing eggs, but regular straw does not perform well in nest boxes or in chicken coops in general. A few of the most common, effective nesting materials range from pine shavings to plastic pads and chopped hay/straw/ zeolite litter blends.
Hens do seem to enjoy rearranging nesting material, but its function is protecting eggs, not entertaining the hens. Some chicken keepers mistakenly believe that nesting boxes should provide a comfortable seating area for hens, but nesting material is not intended to provide a cozy sanctuary for hens to settle in for the long-haul. If you have a broody hen who would like to spend all day sitting in a nest box, set her up for hatching success somewhere eggs aren't going to be laid by other birds.
Broody hens should be located where they cannot interfere with laying hens' daily work.
Eggs that have a soft spot to land will be less likely to break than those that drop onto the bottom of a hard nest box. I use plastic nest pads  and bottoms with or without chopped straw or Standlee Flock Fresh or chopped straw on top of them. The plastic nesting material cannot be kicked out of the nest by hens, protects eggs, is easy to clean in the event of a broken egg and is easy to sanitize. That's a winning combination in my book!
but the aromatherapy benefits are mostly for me! (more about nest box herbs below)
Adding colorful, aromatic 
dried herbs and flowers
 to a nest box is a fun way to spruce up the coop, but beware of misleading claims that herbs tossed inside the coop or grown around it offer a wide array of beneficial properties that they do not provide (including: anti-inflammatory, antibacterial, antioxidant, antiparasitic, calming, laying stimulant, natural
deworming
,
rodent-repelling
, stress relieving- seriously?!).  At
best
, the strong scents of dried herbs and flowers
may
offend some smaller insects, but it does not repel, offend, alarm, discourage 
mites or lice
 from infesting your hens.A word of caution: the warmth and humidity from a hen's body can hasten decomposition and encourage mold growth in both fresh herbs and
straw
, so avoiding both inside nest boxes is advisable.