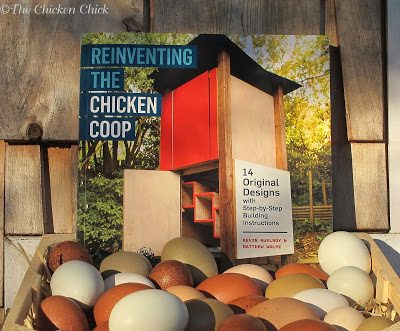 When the editors at Storey Publishing asked me to
review Reinventing the Chicken Coop, written by authors Kevin
McElroy and Matthew Wolpe, I was slightly concerned that I might be agreeing to
review a technical manual that was a little out of my league, not because I'm
unfamiliar with coops, but because I'm not a builder.
I never took shop class in high school and my father wasn't
exactly a handyman, so I never had the opportunity as a kid to learn the
concepts and skills necessary to build stuff. Later in life, I was occupied
with college and law school, courtroom litigation, and raising children, which
left no time for picking up new hobbies. I have often wished that I knew my way
around a builder's workshop, never more so than when I became a chicken keeper.
I was concerned about this book's relevance to someone like me, the non-builder.
But, despite my technical limitations, I'm always up for a challenge and I agreed
to review the book.
From reading the preface of the book, the authors' objectives
were clear: to create useful coops that were beautiful and would make a design
statement. They hoped their designs would provoke dialogue about local food and
self-sufficiency. They joked to each other that their mission was to bring the
chicken coop from the backyard to the front, without alienating the neighbors.
Funky and fantastic coops that generate buzz about important social issues are
fantastic, but owning a book about them would be better if I could actually
build one, which brings me to the highlight of this book for me: the authors
assume nothing about the technical ability of the reader; it was not written
for the Weekend Workshop Warrior, it was written for me!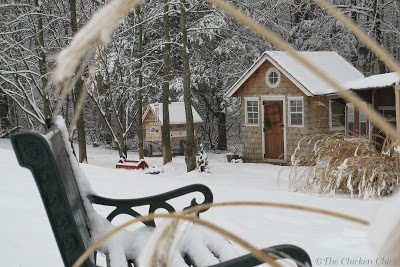 My husband built these two coops of ours, but it would've been nice to have had the skill and knowledge to have helped.
Kevin and Matt break down the process of building chicken coops
into the most basic elements. They specify the tools required, accompanied by
pictures of those tools and instructions for their safe use. They succinctly
describe different types of building materials from wood to hardware along with
why, when and how to use them. I learned that a 2"x4" does not actually measure
two inches thick by four inches wide, that stamps on pallet wood indicate the
manner in which it was treated to keep it disease and insect free, and that
square-drive screws are better than Phillips head screws. That may all
sound pedestrian to those possessing experience with shop tools and supplies,
but to the uninitiated, it is essential to making this book relevant.
While this book, with its pretty pictures of beautiful coops, is
a practical building resource for the novice, it also offers design challenges
to the advanced builder. The fourteen coop designs contained within it are
categorized by skill and difficulty level. Imagine a chicken coop shaped like a
Popsicle, with one central supporting stick and the good stuff on top, and you
have the Coopsicle, which is not a project for a rookie. There are add-ons and
features to inspire even the most seasoned builder, including: living
roofs, compost bins, a raised green house, and a rainwater collection system.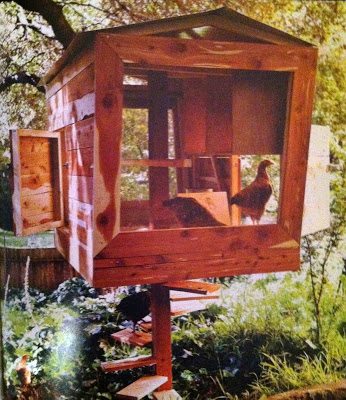 The Coopsicle
The authors, not being chicken keepers at the start of this book
project, obviously researched coop essentials thoroughly and incorporated them
into their coop designs in novel ways. Best of all, in my view as a backyard
chicken-keeping advocate, Matt became a chicken keeper as this book was being
written, giving him first-hand perspective on how those unique design elements
actually perform. Hey, someone had to test-drive the
Coopsicle, right?
There are some elements about these coops that I like immensely
from a design and style perspective, but can envision being problematic in
practice. One such example is the sliding barn door on the Modern Log Cabin
Coop. This door is mounted on rollers which slide on a track. I imagine bedding
material and droppings clogging up the track, preventing the rollers from
sliding on it.
However, what's more important than the practical implications
of any one design element in the book is that the authors have described the
basic skills and techniques necessary for the novice builder to fashion
necessary modifications. And, they have provided the inspiration to the
advanced builder to elevate coop construction to an art form. The strength of
this book is its delightful mix of instruction and innovation, presented in an
engaging, conversational way. It is not merely a collection of blueprints, but
rather a story of design concepts that serve as a springboard for the im
agination, inviting the reader to think outside the
box
coop.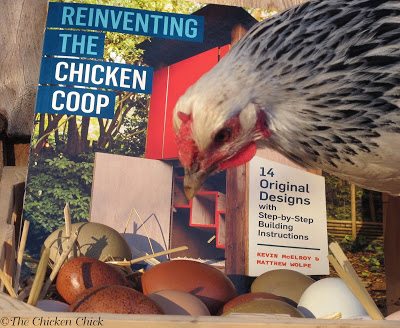 Lola, photo-bombing my photo-shoot of the book!
Now that you know you want a copy of this book, here's how to
ENTER to WIN IT!
2. Leave a Comment Below!
Winner chosen by random drawing from eligible entries on 1/27/13, 9pm EST
and notified by email if address provided or in reply to their comment below.