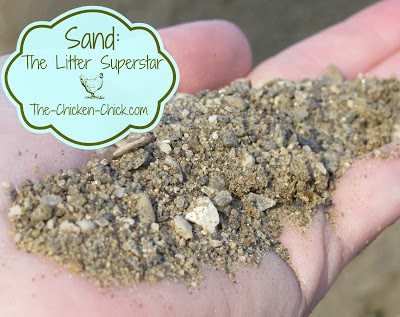 For the first two years of my chickening adventures, I used
pine shavings as litter inside the coop primarily because they were a common
recommendation that was readily available fairly inexpensively. It never occurred to me to use sand inside the chicken
coop even though I used sand in the run, but when Facebook
fan Kelly V. enthusiastically vouched for sand's performance in her chicken coops, I
had plenty of sand on-hand already, so I figured it couldn't hurt to experiment.
Worst case scenario, I could scoop it out into the run and return to using pine
shavings. Pine shavings are a very good litter choice, but scientific research
and personal experience has proven that sand is even better!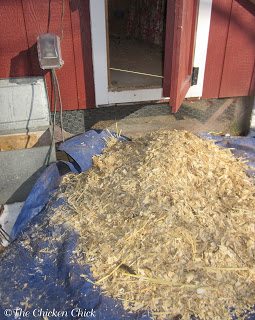 Litter's primary functions in backyard coops are to keep the coop dry, control smell from fresh droppings and facilitate cleaning, the most common materials being soft wood shavings, chopped straw and sand.
As it turns out, sand is not a novel or modern chicken litter concept; the use of sand is a tried-and-true, old timer's method of raising laying hens. Poultry visionary, Charles Weeks wrote of the benefits of sand as chicken litter in his 1919 book, "Egg Farming in California," in which he stated: "Sand is the only material to use on the floors of poultry houses. Clean, dry sand prevents any bacteria from starting. Clean, sharp sand is the freest from dust and easy to keep clean, as the droppings lay on top and are easily lifted off."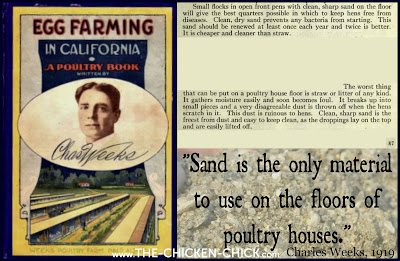 In scientific studies done by the Auburn University
Department of Poultry Science, which were borne out by further field testing, sand performed better than pine shavings with
lower bacterial counts, lower fungal populations and lower moisture levels. The
Auburn research states, "Sand, being
inorganic, contains few nutrients that could be utilized by bacteria and, thus,
would tend to lead to lower bacterial numbers." "Additionally, sand may lack
binding sites for bacteria." Straw is a poor choice for litter due to its notorious lack of absorbency, tendency to cause
crop impaction
,
propensity to form manure mats, and inability to control moisture, insects,
bacteria levels and ammonia. Similarly, hardwoods shavings such as beech should
be avoided due to their propensity to harbor disease causing molds and fungus
as well as containing toxic phenol fumes. The last thing I want in my coop was a droppings-laden mat of respiratory trouble for my chickens.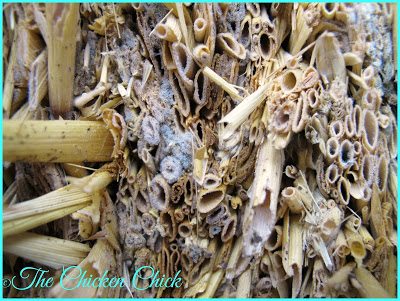 The benefits of sand are many. Sand desiccates droppings, it
does not retain moisture or decay inside the coop, which means less risk of
respiratory infections,
fewer flies
and other insect activity, less bacterial growth, reduced bumblefoot
infections and a lower risk of frostbite compared to shavings and straw. There is no risk of
crop impaction
with sand, in fact, sand is beneficial to the
digestive tract
since it is used as grit in the gizzard to break down fibrous foods before
being passed in the droppings. Due to its high thermal mass, sand maintains
more stable coop temperatures; the Auburn
University researchers
found that sand keeps chicken houses
cooler in the summer
and
warmer in the winter
. In inclement weather, sand inside the coop is dry and
dust-bath
ready!
Eggs in nest boxes remain cleaner
in wet or muddy outdoor conditions because
hens' feet are cleaned and dried while walking through sand to
reach nest boxes.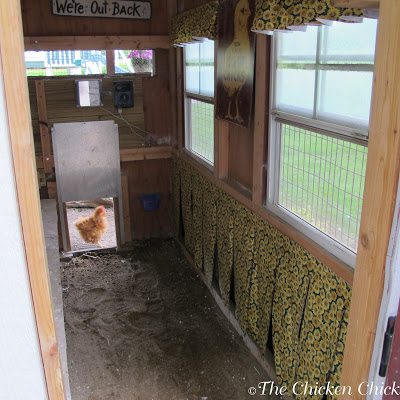 desiccates droppings
does not retain moisture
does not decay or degrade inside the coop
superior drainage
inexpensive
no risk of crop impaction as with straw and hay
easy daily maintenance
infrequent deep cleaning required
keeps feet clean and nails manicured
cleaner feet=cleaner eggs
any dropped feed gets eaten, not lost in the litter
dust-bath Mecca
no decomposition required in compost pile/great soil amendment especially in clay-heavy soils
keeps coops cooler in the summer and warmer in winter due to its high thermal mass
reduces the risk of frostbite
looks cleaner than other litter options and it is cleaner than other litter choice
Testimonials from chicken-keepers:
Facebook thread #2
Facebook thread #3