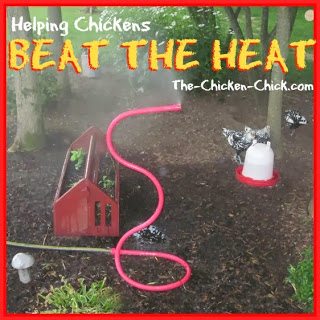 High heat is dangerous for chickens and measures must be taken by their caretakers to ensure their well-being, particularly when temperatures increase suddenly or exceed 85° F.
Heat stroke
,
heat-induced stress
and
death
can result when a chicken is overheated.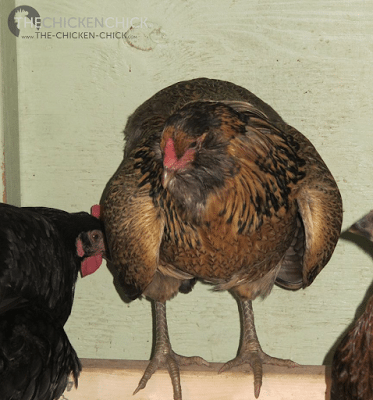 Lucy has her wings spread away from her body to facilitate air circulation closer to her body.
The
mister
was a bargain at less than ten dollars.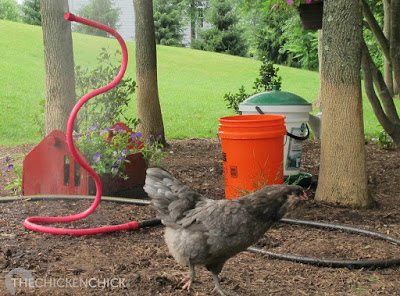 The orange bucket is kept full of cool water in case of emergency.
In temperatures over 90° F, keep a bucket or tub full of cool, water (not cold) near the flock at all times. If anyone begins to look overheated, panting, wings away from its sides, droopy, lethargic or pale in the wattles and comb, IMMEDIATELY submerge in the cool water up to its neck to bring its body temperature down. This simple measure can be lifesaving.
Even if chickens are not in danger, this can be a welcome relief to chickens that would not voluntarily wade into water.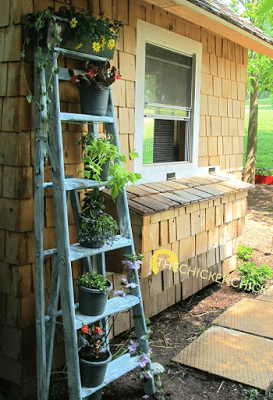 Hose down the roof of the coop and areas around the
coop frequently to facilitate evaporative cooling.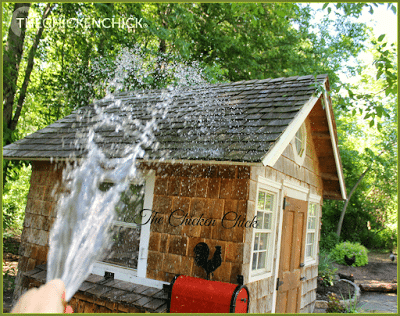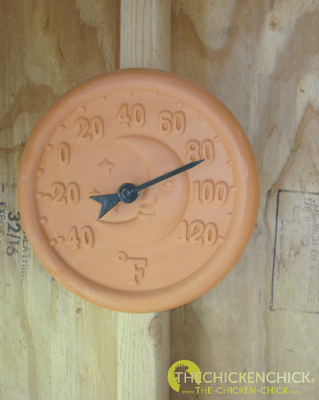 Locating the coop underneath trees made this coop
15°cooler inside than out on this particular day.
The normal body temperature of a chicken ranges between 104°-107°F, which it must regulate without the benefit of sweat glands. It does this primarily by employing evaporative cooling techniques. Body heat is lost through combs, wattles, legs, droppings and its wing-pits (I made that term up, but…you get the drift). When temperatures reach the mid 80s, a chicken will begin to pant, spread its wings away from its body, begin limiting its activity and reduce its
feed
intake.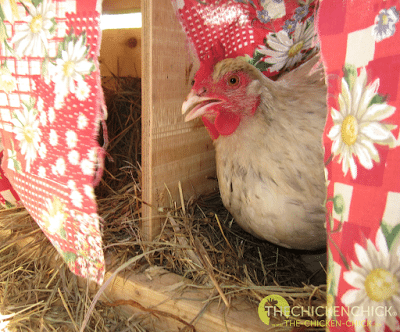 TIPS TO BEAT THE HEAT
TWEAK RATIONS
Switch from layer feed (16% protein) to grower feed (18-20% protein). Since a chicken will eat less feed in the heat, providing laying hens with a ration higher in protein will allow them to eat less overall volume while continuing to meet their
daily nutritional needs
. Laying hens should always be provided with
oyster shell free-choice
to ensure
strong eggshells
.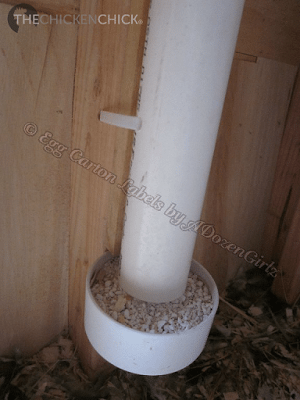 It is critical to provide clean, cool
water to chickens
in hot weather. Keep waterers in shady locations and supply additional water sources wherever possible.
Bring the water TO THE CHICKENS. If they have a favorite, shady rest area during the day, place waterers near them. Chickens shouldn't have to travel far to drink and will drink more if it is convenient to do so.
Refresh the water supply often throughout the day-will not drink water that is as few as ten degrees warmer than their body temp.
Add ice cubes or frozen water bottles to the poultry nipple drinker.
Provide a wading area with a kiddie pool, sled or shallow pan of water
for chickens inclined to stand in it.
Spray the run with water often throughout the day.
Place a large, plastic bucket or trash can on its side in a shady spot, adding frozen water bottles/jugs inside it for chickens to rest alongside.
Freeze water in cake pans and place underneath stepping stones in the shade for the birds to lay on.
Waterer in the shade underneath a deck with a bottle of ice water in it.
Add fans to the coop and run.
Place a frozen jug of water between the fan and nest boxes during the day and between the fan and roosts at night.