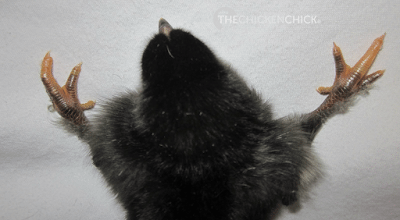 Other causes are:
temperature fluxuations during incubation
a difficult hatch that makes legs weak
leg or foot injury
brooder overcrowding
a vitamin deficiency
Next, I cut a long piece (approx 6-7″) to bind the legs together. The legs should be positioned underneath the chick, slightly wider than a normal stance and should allow a slight amount of play in between the legs for the chick to move a little bit. The brace should be removed once daily to assess the progress and re-adjust as needed. It's important to ensure that the portion touching the legs does not restrict blood-flow. If there are indentations on the chick's legs, the brace is too tight. As the chick's legs strengthen, gradually allow for more slack between the legs until it is clear that support is no longer needed.
This wrap job is not ideal, but the photo was too funny not to share."Police! Show me your hands!"
PHYSICAL THERAPY
Shelf liner aids in gripping to stand.
Standing is tricky at first, but practice makes perfect.